ThermoProX - CSP's 2019 Retailer Choice Best New Product Finalist
The Curtis ThermoProX has been selected as a finalist in the Foodservice Equipment category in CSP's 2019 Retailer's Choice Best New Product Contest. Successful new products are crucial to the convenience retailing industry. With the huge number of new products released every year, we're proud the ThermoProX has been recognized as one of the best. As a finalist, the ThermoProX will be listed in the special section of an upcoming CSP magazine issue highlighting the 2019 contest.
C-store operators will select the winners by voting for 1 of the 3 finalists in each category. Winners will be announced at the NACS show in Atlanta, GA! Wish us luck!
---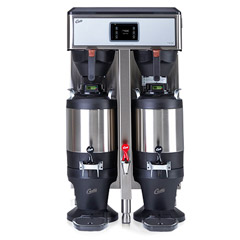 ThermoProX
Brewer and Thermal FreshTrac® Servers
Combined, this system offers precision brewing, unsurpassed thermal efficiency and intuitive technology that instantly communicates freshness and volume. Now in a dazzling, new, streamlined design. Meet ThermoProX at our booth #8031 in Atlanta.